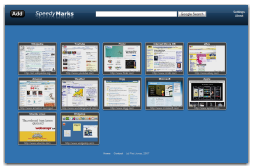 On
SpeedyMarks
you can create visual bookmarks for your favourite websites. It is insprired by Operas
Speed Dial
feature and uses thumbnails from
WebSnapr
. This makes it the perfect startpage for your browser. The background color of the page and the size of the speedymarks can be changed.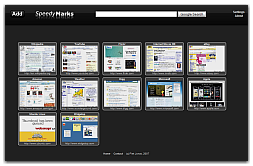 You can
add a button to your website
to make the addition to
Speedy
Marks very easy.
Example:

(SpeedyMark for this blog)
Please check the iPhone version
iPhoneMarks
as well.