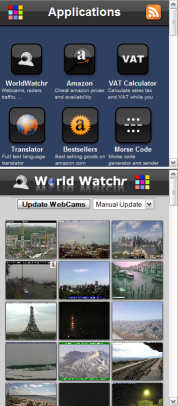 As you probably know it makes complete sense to run iPhone optimized web applications (e.g.
the mobile Google Reader
) in
the browser sidebar
. iPhone applications are usually optimized for a 320 pixel wide browser window which is the perfect size for Firefox's sidebar and Operas panels especially on todays wide screen monitors where a full screen web page would be too wide anyway.
Of course you an run
all my iPhone applications
in the sidebar already. Just open the application in Firefox or Opera, add a bookmark and check
Load this bookmark in the sidebar
on Firefox or
Show in panel
on Opera.
But if you want to run more than one of my iPhone applications in the sidebar you need to create a lot of bookmarks and constantly click your booksmarks to switch. There is no need to. Just put
http://start.speedymarks.com/sidebar.html
in your sidebar and you can easily switch between all my iPhone applications on your sidebar. It even comes with a convient button to add the bookmark automatically:
Add to Opera Panels